11. Rally Italia Sardegna 2014
4. 6. – 8. 6. 2014, Alghero • gravel 364.54 km • total distance including road sections - 1403.41 km •
Other years
•
Other years
SS17 Cala Flumini 2
[Power Stage]

- 8.98 km


-

8. 6. 12:08
Other info
Splity
Rally radio
Splity - Citroenracing

!!! ČT Sport - ŽIVĚ POWER STAGE !!!





Spolukomentátor Power Stage pro Finskou TV M.Grönholm - Twitter @pkaidesoja: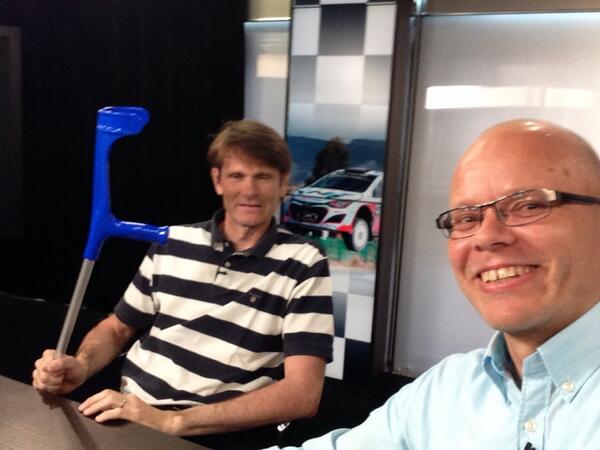 Komentátoři Petři Krutský a Eliáš připraveni na Power Stage pro ČT - facebook:

Info
Great, great feeling, I had to push hard to be honest, opening the road on Friday was very difficult
It's been a very good weekend...fantastic to be at the end with a second place...very pleased with this... / Byl to velmi dobrý víkend... parádní být v cíli na druhém místě...jsem moc spokojený...
On Saturday we had 2 issues, problems with one of the sensors... then I hit a rock and damaged the wheel.
Was OK, not perfect, I made a couple of small mistakes...a great rally to start with me and Ola...
We come here this year feeling completely at home with the car... happy with the progress we've made, solid finish. / Jeli jsme tu letos s autem jako doma...jsem moc spokojen s naším posunem, dobrý výsledek...
OK, just going to the finish for the points...really happy with the improvement...
OK, I'm happy, I try my best...I'm happy. I made it to the end... / OK, jsem spokojený, snažil jsem se úplně nejvíc...Jsem moc rád. Jel jsem tak až do konce...
Mixed rally for us, but I think 90% of it is positive...the best thing is the pleasure I got by driving a rally car on gravel
I spun in one of the corners and hit the wall...I had to reverse...I was just lucky...
It's been a very challenging weekend...to come here for the first time was definitely quite hard. Still good fun... / Byl to velmi náročný víkend...jet tu poprvé bylo velice obtížné. Ale docela velká zábava...
Much better than this morning...still some road cleaning...I do my best...of course the guys behind will be quicker...
Still quite slippery, you can use the rough to help you round the corners...
Bertelli kisses bonnet: "Couldn't be better, fantastic...showing our pace yesterday...first place here is amazing" leads WRC2 Driver table / Políbil kapotu: Nemohlo by to být lepší, je to úžasné...ukazuje to naše tempo včera...první místo tady je naprosto báječné!

Page is not visible with AdBlock enabled.
Please consider supporting us by disabling AdBlock.
drivers301 877
codrivers437 338
events81 531
entries3 462 449
video35 950
photos709 065
car plates1 242 255